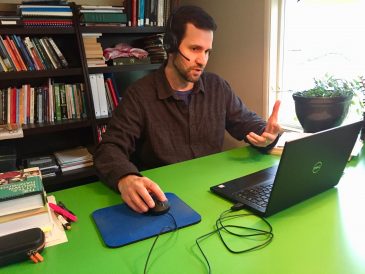 They traveled to the United States from seven different countries to learn English in an academic setting at Syracuse University's English Language Institute (ELI). Socialization and cultural immersion are a significant part of the program, but beginning on March 23, more than 60 ELI students from across the globe lost those features of their American experience.
Due to the COVID-19 pandemic, students and instructors had to change the way they learn, teach and socialize. Instead of visiting Niagara Falls and other local landmarks that are highlights of the ELI's program, students are isolated in dorm rooms and off-campus housing. Only four of the ELI-enrolled students were able to return to their home country before the borders were closed to international travel.
In an effort to adhere to the social distancing directives from the Governor of New York State, ELI instructors had to deviate from their standard teaching practices in creative ways and keep the students engaged in order to minimize their restlessness and loneliness. The international students had to adjust to the and the absence of interaction with fellow students who understand what it is like to be away from their home country.
"Many students express their disappointment that their long-awaited 'American experience' has been altered and expectations lost because of social distancing and shutdowns," says ELI instructor Rebecca Mindek. "But it amazes me that, at the same time, they still remain thankful for the quality of instruction they are receiving through online learning."
ELI instructor David Patent says research shows that learners who exhibit strong self-efficacy are more likely to adapt to online learning than those less confident or with less experience monitoring their own learning. "That certainly has been the case in my class," he says. "Those students who stay organized and asked clarifying questions generally perform as well or better in an online format than in the face-to-face classroom." Patent said that while moving to an online format of learning was highly disruptive, he found that the good habits many students started to develop during the first half of the semester or previous semesters allowed them to more easily adjust to the change.
"All students are impacted by stress, but theory has proven that a language learner's success is particularly vulnerable to psychological factors, especially during a disruption such as COVID-19," adds instructor Amy Walker. "Therefore, low stress is the key." Walker said that ELI instructors are playing an increased role in managing students' mental health by fostering conditions that enable them to relax so they can easily participate in and benefit from the institute's lessons. Creating a discussion board has helped her students and share their feelings about the upheaval in their lives.
Jiacheng Li, from China, said that since classes transitioned to online learning, he has experienced a lot of warmth and kindness from the staff and faculty at ELI. "Every day the instructors ask about the situation of our families in our home countries," he says. "I really appreciate their efforts and concern and will always remember it."
ELI instructor Olga Oganesyan says it's important to help the students adapt to life in the U.S., especially since their experience has been altered. "It is crucial to understand cultural difference," she says. "Our job is to teach students how to be understood in a new culture." As an immigrant and a non-native speaker of English, she can relate to her students on a different level. "Telling them stories from my personal experience of adjusting to life in a new culture builds stronger instructor-student connection and motivates the students," she explained. Oganesyan said that the ELI functions as a home away from home. "Many of our students are young adults that are far away from their families for the first time. Creating a warm and comfortable environment is necessary for their successful adjustment and academic success in the U.S."
While managing their classwork, connecting with their families is critical and gives students and parents reassurance that they are all safe. Qingqing "Jessica" Hu, from China, connects with her family via phone and video calls on WeChat. "We talk about my studies and what is happening," she says. "They focus on my and health and remind me to wear a mask when going out."
"I have always kept in touch with my parents and relatives in my home country," says Li. Since the pandemic, his contact with them has increased. "I am able to video chat with them each night before I go to sleep. I update them about the situation here in Syracuse and what is happening across the United States."
As a graduate student, Li does not live on campus, so he no longer has face-to-face contact with the other ELI students. He limits his travel to grocery stores to pick up necessities. "The hardest thing about the past weeks is the need to adapt to the new self-isolated lifestyle."
Overall, students are managing the adjustment to online learning and the mandate of isolation and social distancing. Patent advises other instructors teaching international students to prepare short, recorded tutorial videos to help them acclimate to the culture of the program. "The videos might introduce syllabi, salient content and language objectives and tips for keeping organized and being responsible for their own learning," he says. Resources such as these are then available for students to refer back to as needed.
"When the pandemic outbreak came to New York City, Syracuse University responded quickly and immediately formulated safe, thoughtful and effective measures," says Li. "I'm very grateful for the efforts made by the University and the ELI." Li says that as a student from China, he knew the severity of the virus that was spreading across the world. "There are no borders when facing a worldwide disaster. Everyone is a part of the same family on our planet," he says.