Welcome to the 2020 Fulbright English for Graduate Studies Program! This summer you will spend 4 weeks in Syracuse, New York learning about American culture, life in graduate school, local history, and the international education network while making friends with other scholars from around the world.
Participants in this program are chosen by the Fulbright Foreign Student Program, through the State Department of the United States Government. For more information about the Fulbright program, please visit their social media accounts on Facebook, Twitter, Instagram, LinkedIn, and YouTube.
Click the links below to learn more about the program in Syracuse.
Program Dates   Daily Schedule   Next Steps   Housing   Contact Information
---
Summer 2020 Program Dates
| | |
| --- | --- |
| Arrival | Saturday, July 11th |
| Orientation | Sunday, July 12th |
| Classes | Monday, July 13th – Friday, August 7th |
| Closing Ceremony | Friday, August 7th |
| Departure | Saturday, August 8th |
Arrival Information
Please ensure that your final incoming flight comes to Syracuse Hancock International Airport. This means that you will travel through one of the major 'hubs' in the United States before taking a connecting flight to Syracuse. Please note that you will need to claim your baggage, go through customs, and recheck your luggage at your first airport in the US. When you arrive in Syracuse, someone from the ELI will meet you at the airport and bring you to your housing.
Early Arrivals/Late Departures
Please note, that by Fulbright and university policy, if you arrive before July 11th, YOU will be required to pay for additional nights in the residence hall. Also, you MUST move out of your residence hall by 12 noon on August 8th. No students will be allowed to stay late; hotels can be arranged, but will also be paid for by the student. Please make all travel arrangements accordingly.
---
Daily Schedule
Classes meet weekdays (Monday through Friday) for the entire four weeks. A typical day will be as follows:
Time
Activity
8:30 am – 12:30 pm
Core Courses:
Oral Communication & Textual Communication
12:30 pm – 2:00 pm
Lunch Break
2:00 pm – 3:00 pm
Presentation by Guest Lecturer
3:00 pm – 4:00 pm
Wellness Activities/ Facilitator Support
After 4:00 pm
Free time
Please note that there will be occasional activities offered in the evening.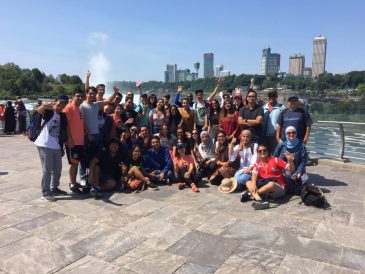 In addition, there will be optional field trips every weekend of the program. Upon arrival in Syracuse, you will get a detailed calendar of the activities for the entire program. Any changes made to the calendar will be announced via email and the Facebook page.
---
Next Steps
Please submit the following documents to elimail@syr.edu.
The pre-arrival form that was emailed to you
A passport photo of yourself
A scan of your DS-2019
A scan of your J1 visa
If you have a Facebook account, please join the Facebook group to connect with the other scholars!
---
Housing
You will be living at Washington Arms, just a short 3-block walk from the ELI. You will receive your specific room assignment upon arrival, but your address will be:
621 Walnut Avenue
Syracuse, NY 13210
*Please note that you CANNOT receive mail at this address. Please use the ELI address for any expected mail: 700 University Avenue, Suite 207, Syracuse, NY 13210.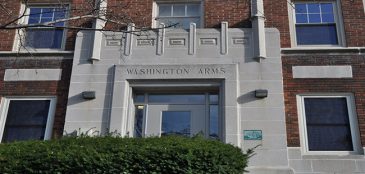 You will be housed with one or two other Fulbrighters in a suite. You will each have your own bedroom with a key to lock it, and you will share a bathroom and living area. Upon arrival, you will receive a linen package containing a blanket, a pillow & pillowcase, a sheet set, and a towel. You will have access to laundry machines in the building to wash these items during your stay.
Cards & Keys
You will be given your SUID card upon arrival. This will give you access to your residence hall, your meal plan, your SUpercard money, facilities on campus, the library, and some campus buses. DO NOT LOSE IT!
You will also get keys upon check-in: one for your suite and one for your bedroom. Please keep these with you AT ALL TIMES. The doors will lock behind you and it can take a very long time (and cost money) to get let in again.
Meal Information
You will have a meal plan of 19 meals per week – 2 each on Saturday and Sunday (brunch and dinner) and 3 each during the weekdays. You will eat at Ernie Davis Dining Hall for all of your meals. When there have trips outside of Syracuse, you will get boxed lunches to bring on the bus. In Ernie Davis, you will swipe your SUID card and have access to as much as you want to eat at the buffet. There are options for all diets including vegetarian, vegan, halal, kosher, and more.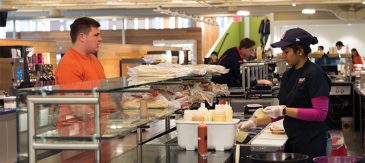 SUpercard Food – In addition to your meal plan, you will have $100 loaded on your SUID card with SUpercard food money. This is used like a debit card at the vending machines on campus as well as the food court in the student center.
---
Contact Information
If you have any questions or concerns, please email elimail@syr.edu. The ELI staff will be happy to help you!
David Lind, Director
Olga Oganesyan, Assistant Director
Jackie Monsour, Assistant Director
Sarah Tomlinson, International Student Advisor
Jordan Burns, Recruitment Specialist