by Cheryl Abrams
Arigato gozaimasu!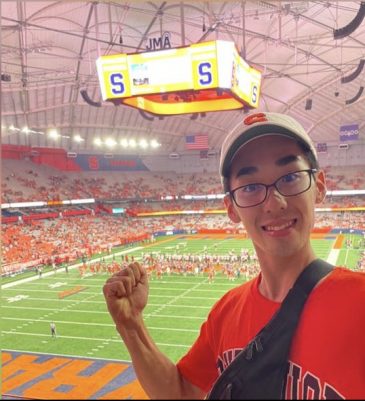 This Japanese expression of gratitude reflects how the students and leadership of Tokai University have felt about the English Language Institute (ELI) at Syracuse University's College of Professional Studies for the past three decades.
"Syracuse University has always been very welcoming to the many students we have sent to Syracuse over the years," says the Chancellor of Tokai University, Kiyoshi Yamada. "We have had the pleasure of hearing from students that they have learned a great deal and had a wonderful experience in a beautiful environment."
Some Tokai University students are required to spend a semester abroad as part of their academic program. Their enrollment in ELI fulfills this requirement, plus provides rigorous instruction in textual and oral English skills, as well as grammatical accuracy. The students, primarily sophomores and juniors, attend ELI classes Monday through Friday, with scheduled breaks for birthday and holiday celebrations, pizza lunches, and other social activities.
"The college's English Language Institute has provided access to meaningful academic instruction for students from around the world for many years," says David Lind, director of International Programs at the college. "We are proud to have cultivated an enriching, mutually beneficial relationship with Tokai University for 30 years."
International students have praised the education they receive through ELI. Kotaro Kishiguchi emphasizes the diversity inherent in the program. "Everyone at the ELI is so kind that I love studying here. Students come from different countries, so you can learn about many cultures."
Dean Michael Frasciello points to the college's long-time partnership with Tokai as an example of the University's commitment to expand access to college through Syracuse University Global. "We have a proven track record in understanding the unique needs of students from varied nations and cultures," he says.
Nonoko Omori, who recently completed the program, emphasizes how ELI's specialized program builds skills in the academic setting that also enhance day-to-day living. "You can talk to students from different countries using English. You become confident in speaking, listening, reading, and writing in English through this experience."
The ELI broadens horizons outside the classroom by providing opportunities for fun and socialization on the campus, in Syracuse, and around New York State, including sightseeing ventures to iconic destinations such as Niagara Falls. ELI students can participate in a weekly Conversation Club; immerse themselves in university activities; and build friendships by living in dorms or sharing off-campus accommodations.
"So far this semester, ELI has had so many events we can enjoy," says current student Rio Hamada, "including sharing pizza with fellow students once a month and celebrating birthdays with cake." Neiro Takeuji adds, "Apple picking was so much fun, and we learned about culture and made new friends!" One Tokai student, Yuta Kukita, even recently completed the Community Police Academy.
Students from all over the world come to Syracuse University not knowing much English or about the academic and extracurricular activities that comprise college life. "These young people want to meet new people and soak up every experience here that they can," says Lind. This fall, ELI participants have become captivated by Syracuse football and sport their orange apparel proudly.
"We are truly grateful that our students have an enjoyable and meaningful experience at your university," says Chancellor Yamada. "Syracuse University has been and continues to be an essential partner for us.  We look forward to an even stronger working relationship in the future to ensure that our students have great experiences."
When students from Tokai University complete their studies in ELI, they also express thanks — "arigato" — for the extensive English language skills they've acquired, friendships they've made, and experiences in campus life and American culture that will enhance their lives for years to come.
To learn more about the English Language Institute at Syracuse University and ways to support activities for its students, visit eli.syr.edu or contact Jeffry Comanici, executive director of Post-Traditional Advancement in the College of Professional Studies, at JJComani@syr.edu.