Languages act as a guide for communicating our goals and dreams. It's how we make sense of the world and connect with the communities around us. Become fluent in a variety of languages, and it's like collecting keys that unlock a plethora of doors to infinite opportunities.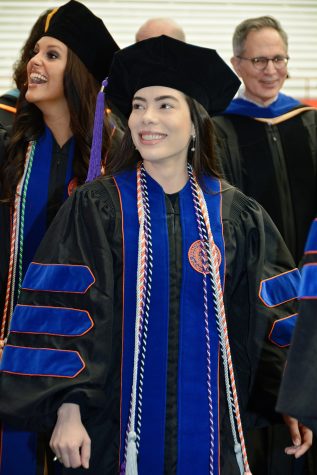 Ludmilla Evelin, an English for Lawyers alumna, came to the United States to unlock those doors and expand her law career by studying at Syracuse University. Ludmilla, a public prosecutor from Brazil, is responsible for prosecuting homicide cases, inspecting police department work, and helping survivors, victims of the crime, and the victim's families overcome challenging moments after the crime.
"Brazilian prosecutors play a vital role in protecting essential rights within the democratic system, such as safety, the welfare of vulnerable groups, education, and the environment, in addition to criminal trials," Ludmilla says.
In order to better assist her community and reach additional communities, Ludmilla knew she needed to expand her research about law and is now an LL.M. candidate at Syracuse University's College of Law.
"There are several reasons that justified my decision to study in the United States," Ludmilla says. "First, traveling is a powerful way to broaden our life view. The United States offers an incredible diversity of cultures and lifestyles. Second, studying abroad helps us gain new perspectives on the profession and opens up new opportunities. In my case, as a legal professional, I learned a new legal system and new tools to answer legal issues. I can apply this knowledge to my job, sharing what I've learned with my colleagues and team."
But before diving into the program, Ludmilla participated in the English for Lawyers program hosted by the English Language Institute.
English for Lawyers is a summer program designed for non-native speakers of English who intend to earn an LL.M. degree in the United States. The objectives include increasing participants' ability to understand and discuss common legal matters and improving their research skills.
"The English for Lawyers program provided me with a solid foundation in legal terminology and communication, which facilitated my transition into the LL.M. program at the College of Law," Ludmilla says.
Expanding Opportunities
The English Language Institute staff and instructors acted as cultural and linguistic guides as Ludmilla journeyed through the program and adjusted to living in the United States. The program not only prepared Ludmilla for her LL.M. program, but the lessons have been transferable as she participates in an internship program at the Onondaga County District Attorney's office.
"The English for Lawyers program helped me improve my English language skills, enabling me to effectively communicate and work in an English-speaking legal environment, not only during my internship but in several situations of daily life," Ludmilla says. "By interning at the Onondaga County District Attorney's Office, I could observe and participate in various legal proceedings, mainly at the homicide division. I attended several lectures that were provided to us about legal professions, visited law firms, and learned about the Syracuse Police Department. I could apply what I learned at the Syracuse University College of Law to analyze cases under the supervision of assistant district attorneys."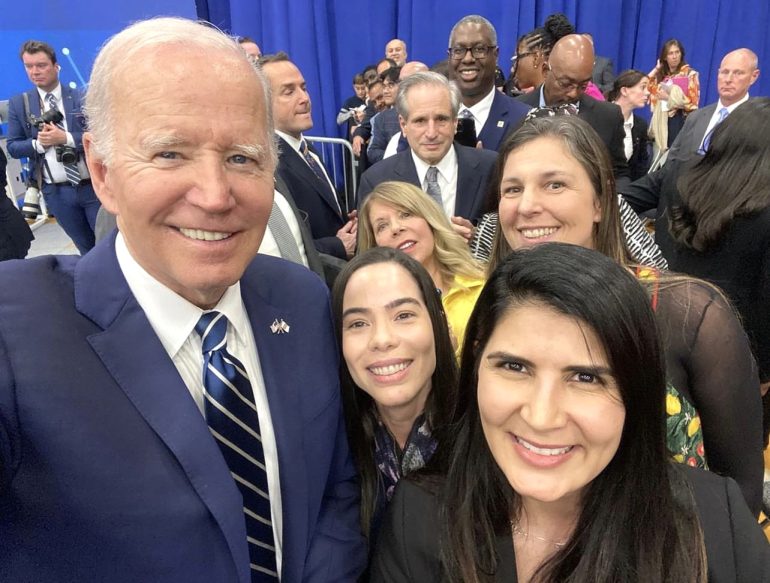 From meeting President Joe Biden, being a judge at the Transatlantic Negotiation Competition hosted by Syracuse University and Queen's University Belfast, to assisting the organizers of the International Law Weekend in New York City hosted by the International Law Association—American Branch, the English for Lawyers program prepared Ludmilla for a variety of unique opportunities that she didn't expect to experience. Moreover, Ludmilla was given the honor of representing the international LL.M. students and was selected to give a speech at the College of Law's 2023 commencement ceremony.
"Being selected to give a speech at the College of Law 2023 commencement ceremony was a great honor and challenge. I wanted to address a message of gratitude, the significance of overcoming language and cultural barriers, and the importance of representing international students. It was one of the best and most unforgettable experiences that I had in the United States," Ludmilla says.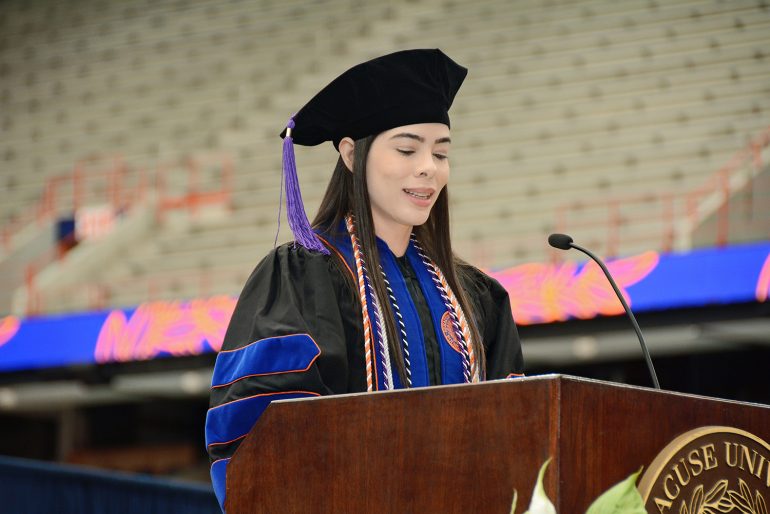 Staying Involved
As Ludmilla continues to study in the United States, she's taken this opportunity to engage with the local community and is giving back to those who have been so welcoming to her.
"My credential as a Syracuse University student allows me to volunteer at the Family Court/Volunteer Lawyer Project, lecture about the American legal system, the role of the District Attorney in society, and legal professions for kids and teenage immigrants at the Rise Project, occupy the pro bono and community service chair at the Student Bar Association at the College of Law, and be a student ambassador at the International Law Society—American Branch. These activities make me feel like I belong in my community and this country," Ludmilla says.
Additionally, Ludmilla is broadening her educational palate and pursuing a variety of courses outside of the realm of law to diversify her expertise and apply it to her practices.
"Attending Syracuse University has been filled with memorable experiences, such as studying in diverse environments, attending classes at different schools like the Maxwell School of Citizenship and Public Affairs, and evolving personally and professionally through various activities," Ludmilla says.
Advancing Career Goals
English for Lawyers and the College of Law have not only prepared Ludmilla with the knowledge and skills she needs to best represent her clients and society—in her case as a prosecutor—but her time at Syracuse University has also provided her with the confidence to succeed and advance in her career.
"During my journey in the United States, I've learned about alternative dispute resolution to develop the necessary skills to negotiate and mediate. These skills will allow me to handle pleadings when it's possible," Ludmilla says. "Furthermore, in the criminal area, I've researched victim's rights. In Brazil, public prosecutors have paid more attention to this topic to guarantee the victims' protection. The American legal system has been working on this for several years. The American experience helps me understand the better path to achieve the best results in this area."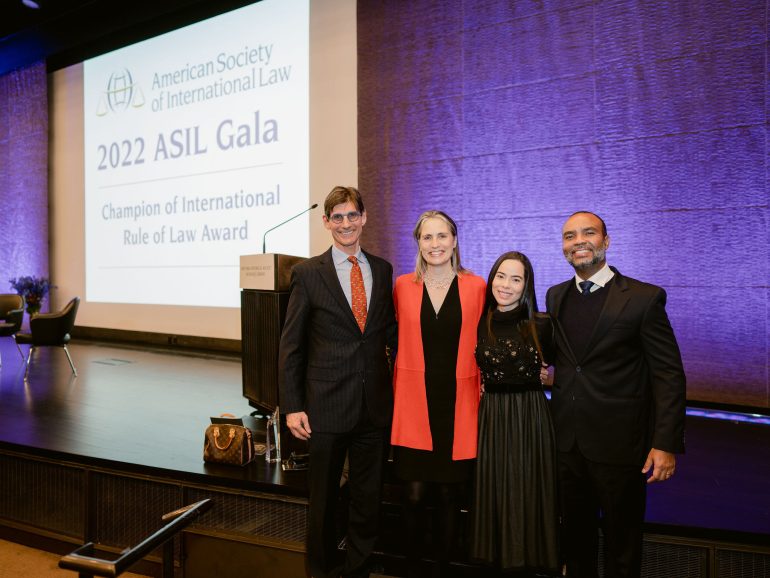 As Ludmilla considers the next steps in her career, she reflects on how her experience at Syracuse University has prepared her to follow her dreams. For Ludmilla, the human experience drives her career, and she says learning English has allowed her to create a deeper connection with a wider population.
"Over the next five years, I plan to apply the knowledge and experiences gained in the United States to my work in Brazil," Ludmilla says. "I aspire to collaborate with international organizations and use my academic and professional background to make a positive impact, not only in my country but also in other countries."
---
About the English Language Institute
The English Language Institute, a department within the College of Professional Studies, at Syracuse University is a pre-degree program that prepares international students to succeed in their undergraduate and graduate degree programs. Established in 1979, this immersive year-round program allows international students the opportunity to learn English and culture in the heart of New York state.
By Hope Alvarez